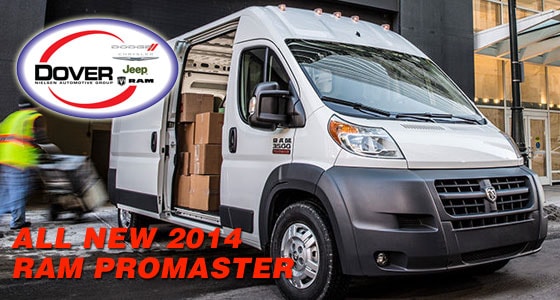 Dover Dodge delivers in Roxbury Township, Dover, Montville, and Parsippany with the All-New 2014 Promaster Cargo Van, available now at Dover Dodge Chrysler Jeep Ram in Rockaway Township, NJ.
Ram Truck is well known for being the most upfitter-friendly brand in the truck market. The All-New 2014 Ram ProMaster, now available at Westbury Jeep continues the tradition and features an integrated cab configuration for unmatched up-fitter/conversion solutions. Adding to the ProMaster's design for adaptability, virtually all primary vehicle systems are packaged forward of the cargo area.

The standard electronic stability control (ESC) system on the new Ram ProMaster is a sophisticated four-channel (independent control to all four corners of the vehicle) active handling system that links the vehicle's dynamic control systems to assist the driver in maintaining control under demanding or adverse conditions such as wet, snow-covered or icy roads, tight turns, and evasive maneuvers. In effect, the ESC determines the driver's intentions and optimizes overall vehicle control to keep the dynamic forces within select limits in any driving situation - nearly transparent so control seems almost intuitive.
Dover Dodge Chrysler Jeep Ram in Rockaway Township, New Jersey is proud to serve Roxbury Township, Dover, Montville, and Parsippany, New Jersey. With the latest models like the all new 2014 Ram ProMaster, we carry a vehicle to fit everyone's need. Visit us at 396 Route 46, Rockaway, NJ 07866 and test drive a new Ram, Jeep, Dodge, Chrysler or used car. Our greater New Jersey customers leave our dealership 100% satisfied with our excellent customer service and our friendly salespeople.

The 2014 Ram ProMaster van's powertrain lineup features the award-winning, standard-equipment, gasoline-fueled V-6 and a torque-laden, I-4 EcoDiesel engine. The engines are paired, respectively, with a proven six-speed automatic transmission and an electronically controlled six-speed automated manual.

The 2014 Ram ProMaster marks the North American introduction of the potent 174-horsepower 3.0-liter inline 4-cylinder EcoDiesel engine that generates peak torque of 295 lb.-ft. at just 1,400 rpm. The engine features a number of refinements, including internal engine components, turbo and emission controls. Helping to reduced total cost of ownership, an oil-level sensor contributes to an oil-change schedule of up to 18,500 miles.

The standard-equipment 3.6-liter Pentastar V-6 is rated at 280 horsepower with peak torque of 260 lb.-ft., the dual overhead cam, 24-valve Pentastar delivers the capability required of a commercial van without compromising refinement - hallmarks that have contributed to its ranking among Ward's 10 Best Engines for three years running.
Reducing vehicle operating costs was paramount in the minds of the powertrain engineers who contributed to Ram ProMaster's development. Recommended oil-change intervals range up to 10,000 miles. But an intelligent oil-servicing system that monitors vehicle usage will trigger an alert when service is most appropriate.

The smooth-shifting 62TE automatic transmission is upgraded to accommodate the Ram ProMaster's prodigious cargo-hauling capability. Specifically, its 3.86 final-drive ratio enables comfortable grade transit under full freight. The transmission more readily adopts the most appropriate ratio for a given driving situation. The numerically lower overall top gear ratio delivers a more economical highway operation.
Dover Dodge Chrysler Jeep Ram is the right choice for the All New 2014 Ram Promaster in greater New Jersey.